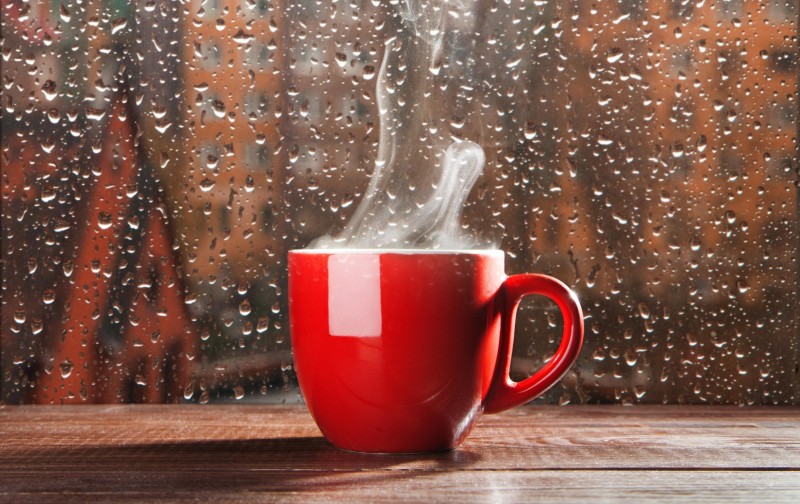 There you are, it's raining, you're stuck in a traffic jam, watching those fragile raindrops falling through your car windows. And as you inch the car forward while holding the steering with white-knuckled tension, a glance at the clock tells you you're going to be late for that important meeting but your eyes look greedily outside, you want to stop and feel like having that much-needed cup of Cappuccino at your favorite coffee shop while enjoying the rain and there's nothing you can do about it. Finally, you bury your coffee cravings, move ahead, but realize what that Starbucks' cappuccino is still occupying a large space in your mind.
Starbucks is the best addition to the list of the third Places after Roman forums, English pubs, Italian piazza's, German Bier Gardens, Japanese Tea House. Why third place because it's neither home nor work it lies somewhere in between: a public hang out, a place where friends can connect or an amazing place for the first date.
It is indeed a quintessential brand. So, what's so special about this brand and what makes it different from others?
o People connect with it and it connects the people…………it's all about human connection!!
o It creates a unique atmosphere of "Customer Intimacy"
o A lovely surrounding to meet and move-on
o A break from the worries outside
o Enjoyment at the speed of life – sometimes slow and savored, sometimes faster.
Starbucks is one of the finest examples of a brand that we have. It actually starts as a basic commodity product and invests in something really unique added value by weaving an experience that surpasses the simple act of drinking a beverage.
The brand teaches us that:
It is not a brand but a close friend
Consumers emotionally connect with brands when the brands repeatedly provide something that the consumer wants, desires, or needs. If you're a regular visitor at Starbucks, then you would surely be aware that your favorite brand knows your name and preference. This little personal touch is extremely important because giving customers a memorable, personal experience is one of the most important things that eventually triggers happiness.
Believe in Serendipitous Innovation
Known for its in-store innovations, from reverse-French-press Clover coffee to its newest Fizzio handmade sodas, Starbucks has always gone beyond its standard café to better serve customers. A coffee brand like Starbucks created something people didn't know they needed. For example, realizing that customers wanted to spend more time at its locations, Starbucks has started offering free Wi-Fi since 2010, which has been incredibly successful.
Unleash the power of Social Media
Most of us are aware that social media has a significant role to play in the promotion and marketing of a company, but Starbucks knows how can you perfect your social media presence? Starbucks has used Instagram to tell its amazing brand story. Starbucks' Instagram success has had much to do with its habit of finding and re-sharing photos posted by its fans, earning them goodwill. They reached out to an Instagram user and asked permission to use a pretty, light-dappled shot of its classic red holiday cup next to a Christmas tree as its Facebook cover image. Of course, the coffee fan in question felt obliged.
It is everywhere!
While restaurant chains will typically do not build stores too close to each other in an effort to avoid having one store cannibalize another's sales, Starbucks doesn't have this problem at all, and the company ensures to build stores so densely in cities that multiple coffeehouses could be within easy walking distance. It is indeed everywhere!
Technological innovation should always be brewing
Starbucks also boasts an incredible capability to seamlessly execute on new technology initiatives that include the national rollout of Starbucks' Mobile Order & Pay app for both iOS and Android devices at more than 7,400 company-owned locations. The Starbucks Rewards mobile-payment application has somewhere 12 million active users, -making it the third-most-popular digital-payment app used by U.S. consumers, according to Comscore, which has put the brand ahead of iTunes and American Express Serve.
The Partners matters
Starbucks always believes in choosing the right partner and they like to delve deep into another company's soul. Since 2006 Starbucks and Apple have worked together to provide customers with a "coffeehouse experience." This partnership has allowed users to purchase songs on iTunes that they heard in Starbucks. Recently, Starbucks launched its new Oprah Chai Tea. More than just your typical celebrity endorsement, the collaboration was a significant move for both brands, Starbucks and Oprah. It was a brilliant move to increase the appeal of tea, draw attention to Oprah and her cause, and keep Starbucks at the forefront of innovation.
A long and spectacular journey that refuses to end!
Starbucks has grown from a small seller of premium coffee beans into the premier coffee shop around the world by predicting consumer demand and thereby acting accordingly. From popular seasonal offerings like pumpkin-spiced lattes to customer loyalty programs promising free coffee, Starbucks has cultivated a loyal following that refuses to switch brands.